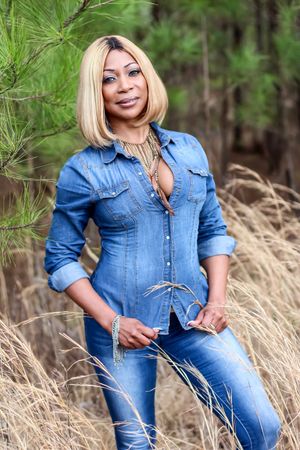 Donyale Renee has recently become one of the newest and fastest rising stars in Southern Soul with her 2019 to release "Back Dat Booty" ft. The Party King landed her firmly on the scene in Southern Soul which gained her the 2020 Nominations for new artist of the year from the Jackson Music Association Awards and the ZBT/Zydeco, Blues & Trail riders  Awards. Winning the BMA 2020 people choice awards as Entertainer of the year.
In 2022 she received the Radio and Records Award as Southern Soul Artist of the Year and a Proclamation  to the City of Atlanta in Entertainment.
She followed up with writing her sophomore single "Spend My Money" which is becoming a new women's anthem and a future classic that expresses the feelings of an independent woman that would make Betty Wright proud which hit the top 20 of several Blues charts.  In 2021 her 3rd single "I Come To Party" written  by Jeter Jones aka The King of Trail Ride and Ronald Jefferson aka Slack Traxx is reuniteing the world on the dance floor "To dance the night away Baby"!
Music available on all digital platforms.